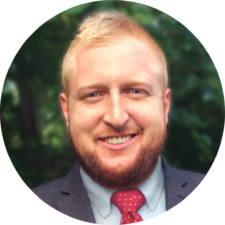 Scuyler "Sky" Kurlbaum, DDS
Dr. Sky Kurlbaum grew up in Kansas City, KS, graduating from Shawnee Mission East High School before attending the University of Kansas. Dr. Kurlbaum attended UMKC School of Dentistry. In addition to working in private practice, Dr. Kurlbaum has also given back to the community by serving children from low-income families at a wonderful non-profit clinic in Harrisonville, Missouri.
Dr. Kurlbaum works hard to ensure he can provide for all the needs of his patients. Dr. Kurlbaum completed a Fellowship with the International Dental Implant Association and is dedicated to helping patients restore lost teeth with implants. Dr. Kurlbaum himself lost a front tooth playing basketball and has had an implant placed to replace that tooth, so helping patients receive comfortable, easy and pain-free implant treatment is a major focus. He was also a member of the Prosthetic Honors program in dental school which helped him complete double the required training for dentures and do many advanced cosmetic dentistry cases.
Dr. Kurlbaum married his best friend, Nicole, and they live in Brookside, Missouri, with their two dachshunds, Pepper and Bandit. Sky is an Eagle Scout and loves being outdoors. His family has a 3,000-plant tomato farm in KCK that delivers tomatoes to restaurants around Kansas City, including Jack Stacks, Michael Smith's, Bristol, Jasper's and more. On the weekends, Dr. Kurlbaum enjoys traveling, playing sports, boating at Table Rock Lake, tailgating at sporting events and spending time on his family farm.
Blog Post Uncategorized
October 13, 2022
There are many wives' tales and myths surrounding dental health and oral hygiene, so here are a few facts to keep the record straight. It can be surprising to see the statistics on dental care and to recognize that your own habits contribute to these numbers!